Wisdom of the Dolphin - Program Details
Day One
The seminar begins at 2 pm at the Royal Kona Resort. This is a day of introduction to each other and to the ocean. You are asked to bring snorkeling gear to the meeting. If you do not have your own snorkeling gear, good equipment can be rented at nearby Jack's Diving Locker. For a discount, tell them you are attending the "Joan Ocean Seminar."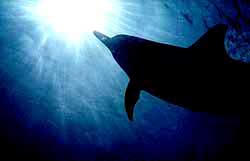 We will then go to a protected beach to practice snorkeling in the shallow ocean waters.
In the evening, after dinner, we meet at 7:30 p.m. At this time we discuss our afternoon swim, go over the schedule for the week, and learn about the Hawaiians dolphins we will be meeting.
Days Two To Five
In the mornings we will go out on the boat to meet the dolphins along the Kona coast. The Pacific Bottlenose, the Spotted Dolphin and the gentle Hawaiians Spinner dolphins all live in these coastal waters and are familiar with our boat. Joan knows the dolphins' behaviors and their favorite places to be together with humans. Our safety swimmers assist you in the water as we experience the heartfelt, benevolent human-dolphin interactions.
In the afternoons and evenings we gather to discuss our experiences. Joan will share what she has learnt from her twenty years of swimming with these ocean dolphins, and Peter will explore with us what our interactions with the dolphins have to tell us about the mind of the dolphin and what we can learn about the nature of our own consciousness. Our intention will be to use this unique opportunity to be in the company of intelligent, loving, and playful creatures to raise our own awareness, open our hearts, and develop greater wisdom in our own lives. This time will include presentations, discussion, meditation, and personal reflection.
We leave one evening and one afternoon free for people to relax and explore more of the island. There are many inexpensive local restaurants and shops nearby, and bicycles or cars may be rented for going further afield.
Day Six
We meet in the morning for a final sharing and closing ceremony. The workshop is over at 11 am in time for hotel check-out.